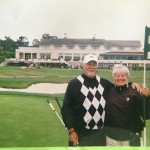 We are starting something new that will help us all to get to know our Members.
Each Month we will spotlight a few of our Members and Find out some interesting  facts about them.
The first ones I'd like to introduce to everyone is a couple that is among my very favorite. They have been members since July 2009.
They  are Jerry and Donna Daniel, they now reside in  Wickliffe, Ky.  Donna is from the Wickliffe area. She had moved to Evansville, IN area  and managed  a country club there and that is where she met her love, Jerry Daniel!
Now i don't believe this was love at first sight because Jerry, who may get a little grumpy if not playing well, was nicknamed "The Jerk" by Donna when first getting to know him.
Jerry had joined the Army at the age of 21, after 3 years he was out  of the Army and  living in Evansville, where he had a job within a week of arriving home.  He retired from this very company , Alcoa Aluminum,  and moved to Destin, Fl.  Donna, meanwhile, had started respiratory school at 34 and graduated the same year her son graduated high school, she worked her tail off to put him through college!! (Something that I could tell Jerry really admired about her).  And the hard work paid off, he is now a teacher and a coach!!
On a visit to Destin, Donna had heard that Jerry lived there so she called him up, when he answered she asked "Is this the Jerk?"
That question must've done the trick because Jerry moved from Destin, Florida to Wickliffe, KY to share his life with Donna!!
Jerry is a mighty fine golfer, he has been known to shoot his age for quite some years now and he is a mighty fine man with a mighty fine wife!! (Haha,  I may need to stick to my day job))
 I don't know about the jerk part, I just see two awesome, interesting individuals that we are lucky to have as   OUR MEMBERS!!