WE WOULD LIKE TO INTRODUCE MICHAEL SOWASH, -SO-WASH OR SOW-ASH- I THINK ITS REALLY SO-WASH BUT I CALL HIM SOW-ASH (HE STARTED IT)
Michael or Mike joimed the Silos family April 24, 2015!!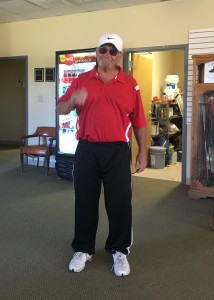 He was born and raised in the Reidland area of Paducah. Ky and  He graduated from  Reidland High School.  Janet is originally from Portage, IN and moved to Paducah in 1996 and they were married that same year.
After graduating Michael  went to the United States Marine Corp, where he served our country for two years!!  After returning home he became a boilermaker and after 35 years he hung his boilermaker hat and started enjoying retirement!
Michael has just recently taken up golf and plays quite often. We have enjoyed getting to know Michael, he, like most of our members are characters, good, upstanding individuals with quirkiness!! Just the way we like!!  Michael is a good, friendlly, honest  man with good morals!! I've never seen this man in a bad mood, he always has a smile and something to talk about
Thank You Michael and Janet for joining our Silos family!!